Bullroarers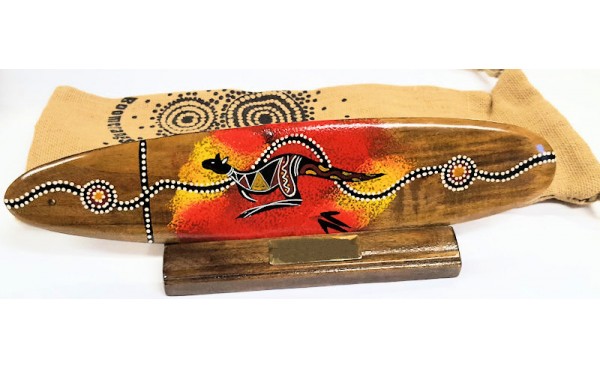 Australian aboriginal bullroarers for sale
Bullroarer information and facts

The bullroarers are flat wooden devices of oval shaped with a slight twist.
Attached to a string it is whirled through the air while spinning on its own axis. Bullroarers are generating sounds are like howls, roars and thundering of animals or spirits. Depending upon the shape, thickness and density of the woods used the bullroarers make a fascinating variety of sounds.
The bullroarer has long history and was found in many cultures around the globe. It has high mystic significance among Australian aboriginese where they are traditionally used in sacred rituals to balance spiritual energy and to scare evil away.
To use a bullroarer, spin it in a big circle above your head, holding the end of the string. If done correctly the bullroarer will produce an eerie whirring sound that carries well in the barren landscape of Australia. Mr. Crocodile Dundee used a bullroarer as a telephone to call some help.
Warning!!!
Please, take care when using your bullroarer by making sure that the area is free of possible obstruction.
Check the string / rope condition frequently as the last thing you'd like to happen is have the string break.
Then you have a thin and heavy piece of wood flying at enormous speed - dangerous for you or anyone in the vicinity!
---
Showing 1 to 10 of 10 (1 Pages)